Orphyk Consulting
is providing outsourcing services of highly experienced and capable 
SAP 
experts in the disciplines of project management, consultancy and development. 
Our goal is to work for system integrators and business owners; IT services and software developing companies 
that have a need of additional resources; Private Company or Public institution that needs any type of consulting 
and development services related to software development and system integration, implementation of complex 
ERP solutions, etc.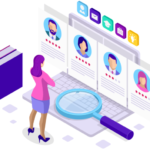 Engagement Models
Staff augmentation
Are you challenged with availability of experienced & skilled resources in midst of aggressive schedule, complex business opportunity but blessed with excellent budget? Orphyk Consulting offers an extended team to meet your business needs. We can augment staff depending on your company requirements.
With our staff augmentation services, you can get master help according to your short and long haul pre-requisites.
Orphyk Consulting invests the necessary time to understand our client's IT organization, corporate culture and ultimate business goals. Our strong coordination with qualified candidates and deep understanding of the customer's requirements makes Orphyk Consulting a one of a kind staffing partner. Our Staff Augmentation services are delivered through innovative automated candidate search and cost effective solutions customized to your requirements.
We're all about finding the right people, with the right skills, for the right job.
We bridge the IT talent demand-supply gap through an innovative, best-in-class recruiting engine, backed by a dedicated client-centric service focus. The result? Over 90% of our clients rank us in their top 3 suppliers by performance.
We offer staff augmentation, team services and direct hire models and can help you quickly ramp up your team to meet your organizational and business objectives.
T&M
Our popular engagement model that delight our client by charging only for time and resources spent on the project powered by agile development process.
During the software development process there are situations and projects that demand flexibility various stakeholders/partners. Time and budget constraints can be convenient for the mutually beneficial terms. Time & Material (T&M) is popular, since it allows more control over the development progress and cost.
Fixed bid Engagement Model
A Fixed Price model is an ideal option if project scope and requirements are well defined. When your needs are clearly specified in sufficient detail, we could estimate the project scope and complexity, and provide a project delivery schedule along with a fixed price for the complete software development. The project proposal will be with details such as project planning, technology used, development approach, testing process and deployment schedule.
This engagement model offers shared learning, on demand service, initiate products & innovation culture.